---
Price search results for Profile Design FC25 Drink System Profile Design FC25 Drink System
If Profile Design spec'd the larger FC35 for 140. 6-mile courses, then the smaller FC25 Drink System would be your 70. 3 model. It puts everything you need for hydration and caloric-intake needs between your aerobars but shaves off ten ounces of volume for a more compact profile that reduces your cockpit's drag profile. The water reservoir's straw can be switched to a fore or aft position, depending on the particulars of your aero bar reach and stack. Though it's not as large as the FC35, the FC25 does feature the same splash-back guard, so you can refill it quickly without breaking pace from bottles mounted on your down tube or under your saddle. The rear compartment of the FC25 System provides catch-all calorie space for anything from trail mix to gels, and the flexible bands criss-crossing the opening help organize and secure your calories. The provided head unit mount means you'll be in complete control when it comes to monitoring those calories as you convert them into watts.
Price: 84.99 from Backcountry Whether it's to ward off the accumulation of funk or to maintain a separation between your hydration mix bottles and water-only bottles, Profile Design offers a replacement reservoir for the FC25 Drink System Bottle Kit. Its straw can be switched to a...
---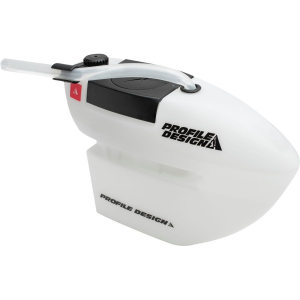 The only potential drawback with the water reservoir in the FC35 Drink System is the possibility of accumulating funk or the lingering taste of hydration mix flavoring when you're just using water on a training ride. Having a spare FC35 Drink System Bottle...
--- Profile Design's Aero HC System straightforward build makes it one of the most efficient triathlon hydrations systems on the market today. The Aero HC features a BPA-free bottle that is bullet-shaped, and a shrouded straw mount to create the ultimate...
---
Related Items on eBay
Sorry, no results from eBay were found!
Related Items on Amazon
Attaches to bars with bolt-on adjustable wings that adapt to different aero bar width extensions. Made of Injected Nylon and Glass fiber. Adjusts to 140mm wide. Weight: 130g. Compatible with Profile Design FC25/FC35 hydration systems, Aero HC bottles,...
---
Material: BPA-free, food-safe HDPE. Volume: 25 oz. Valve: straw. Recommended Use: triathlon. Manufacturer Warranty: 2 years limited.
---
Gear Tacker Price Comparison Engine
Privacy Policy